Subsection 50(1) - Debts established to be bad debts and shares of bankrupt corporation
Cases
not a bona fide loan if no repayment expectation
The taxpayer was the sole shareholder and employee of a corporation. The corporation paid him his entire salary on December 31 each year, which he immediately lent back to the corporation and claimed as a bad debt. Noël stated (at para. 7):
The appellant cannot maintain at once that he made bona fide loans to his company and that the loans gave rise to bad debts on the very day on which they were advanced. A monetary loan, by definition, is an amount advanced in the expectation that it be repaid... .
In reviewing an adverse response of the Minister to a request of the taxpayer that the Minister grant under s. 152(4.2) the taxpayer's request for recognition of an allowable business investment loss in a statute-barred year, Dawson J. found that the Minister had erred in finding that it was not reasonable to expect that a corporation ("PGL") owned by the taxpayer would be dissolved and wound up in light of the fact that the corporation was a party to litigation.
"A review of the considerations that led to the decision shows that the Director failed to consider the likelihood that when the lawsuit was resolved PGL would be dissolved and would not commence carrying on business. This would involve consideration of things such as the nature of the claims advanced in the lawsuit, the role of PGL in the lawsuit and what would be the reasonable expectation of PGL's future if the lawsuit succeeded."
The trial judge erred in finding that the taxpayer should have elected under s. 50(1)(b) in respect of his share investment in a company for 1984 (the year its license to operate was revoked) rather than 1994 (the year in which it was wound-up) given that the licence was restored in 1985 and the law suit brought by the taxpayer and the company against the federal authorities relating to alleged wrongful revocation of the licence was not settled until 1994.
Administrative Policy
End of year references taxpayer
End of year references taxpayer
1.23 ... [T]he end of the tax year refers to the tax year of the taxpayer making the subsection 50(1) election. ...
"Insolvent": unable to pay debts
1.24 ... [T]he term insolvent is given its ordinary dictionary meaning, which generally refers to the inability to pay one's debts.
Late elections
1.25 ... Generally, subsection 220(3.2) of the Act, together with paragraph 600(b) of the Regulations, gives the CRA the authority to accept an extension request. The request must be made on or before the day that is ten calendar years from the tax year in which the election was due. A late election accepted by virtue of subsection 220(3.2) is subject to the penalty imposed under subsection 220(3.5). ...
Election revocation
1.26 ... [T]he CRA may accept a request to revoke a subsection 50(1) election. ...

1.27 Circumstances where a taxpayer might want to revoke a subsection 50(1) election could be where the taxpayer had honestly and reasonably determined that the debt had become uncollectible and made the election but without knowing that in the particular situation subparagraph 40(2)(g)(ii) applied... . [T]he CRA will generally permit the taxpayer to revoke the subsection 50(1) election so that there is no deemed disposition or reacquisition of the debt. The result will be that any subsequent collection on the debt will reduce the taxpayer's adjusted cost base of the debt rather than produce a capital gain.

1.28 Generally, the CRA will refuse a request to amend or revoke a subsection 50(1) election in circumstances where it is reasonable to conclude that the request is being made for retroactive tax planning purposes. This might be the case, for example, where a request is being made to revoke an election to avoid the operation of subsection 50(1.1). ...
second mortgagee not entitled to deduction as it did not exercise its remedies
In order to facilitate a sale, a real estate agent (the "Broker") provided financing to the purchaser by way of a second-ranking hypothec (which was capital property). When the Broker did not receive repayment in full, no action was taken to seize the property, and the property was not sold.
In finding that no write-down could be taken under s. 50(1) as (per the summary) "the debt is not bad yet since the taxpayer has not exhausted all legal means of collection," the Directorate stated (TaxInterpretations translation):
[S]ince the Broker did not exercise all the rights and remedies under the Civil Code of Quebec, the hypothecary debt did not become irrecoverable.
comparison of 20(1)(p)(i) and 50(1): latter requires full uncollectibility
When asked how CRA's position - that a debt must be unrecoverable in its entirety before it could qualify as a bad debt under s. 50(1) - could be reconciled with CRA's position that a partly bad debt could be deducted under s. 20(1)(p), CRA stated (TaxInterpretations translation):
[T]he concept of debts in subparagraph 20(1)(p)(i) can refer to each account receivable of the taxpayer. Thus, following a diligent examination of the facts, certain of the amounts due by a customer can become uncollectible and these represent the portion of the debt which has become uncollectible.
On the other hand:
A debt can be eligible for the election under subsection 50(1) if it is uncollectible in its entirety at the end of a taxation year. Note that if a debt described in paragraph 50(1)(a) is settled in part and the creditor establishes that the balance owing is uncollectible, an election under subsection 50(1) could be made with respect to the uncollectible portion.
nil value partnership
A limited partnership "has ceased all activity but has not legally ceased to exist;" and "all partnership funds have been lost in a failed investment." CRA stated:
As limited partnership units are not the type of property described in subsection 50(1), that provision cannot apply to the situation at hand. Further, there is no provision in the Act that provides similar treatment for nil value limited partnership units. [However]…where a partnership is dissolved and the taxpayer is not entitled to and does not receive any share of the partnership's net assets (if any), the dissolution would generally result in a disposition of the partnership interest and an amount of zero may be used as proceeds of disposition... .
When a tax return is filed electronically, how can the taxpayer satisfy a requirement to "elect in the return" (see s. 50(1)) or "by letter attached to the return ... elect..." (see Reg. 1101(5b.1))? CRA responded:
[E]lections, designations, agreements, waivers, and special elective returns must be submitted in paper format by the appropriate due dates... .

A taxpayer can indicate in the software that they are making an election and the software will build an Election indicator field. ... Completion of this field code does not constitute an election; it is designed only to inform us that an election form or a letter/note containing the required information is being submitted in paper format

...

The Minister has discretion as to how to accept elections. With respect to the election under subsection 1101(5b.1) of the Regulations, the CRA will not deny the election on the basis that it was mailed separately and not attached to the electronic return.
lossco with no assets or liabilities cannot be insolvent
Example 1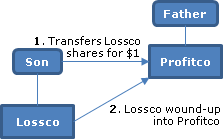 Son claims an ABIL under s. 50(1) with respect to his share investment in a wholly-owned corporation (Lossco), which had ceased active business operations in the year, and then transfers his shares of Lossco at the beginning of the following year to a corporation wholly-owned by his Father (Profitco) for consideration of $1, with Lossco then being wound-up into Profitco under s. 88(1).
Example 2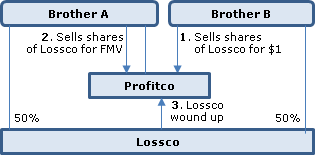 Brothers A and B each hold 50% of the common shares of Lossco, which had ceased active business operations in the year, with Brother B claiming a BIL under s. 50(1). Brother B then transfers his shares of Lossco at the beginning of the following year to a corporation wholly-owned by Brother A (Profitco), Brother A sells his shares of Lossco to Profitco for their fair market value, and Lossco is liquidated into Profitco under s. 88(1).
Before addressing the loss transfer issue raised in the question (and further noting that the transfer by Brother B of his Lossco shares to Profitco gave rise to a capital loss (i.e., not a business investment loss) subject to the loss being limited by s. 69(1)(b)), CRA indicated that it was "not evident" that the conditions in s. 50(1)(b)(iii) for realizing a capital loss under s. 50(1) were satisfied in either example, stating (TaxInterpretations translation):
...[I]t is necessary to attribute to the word "insolvent" its ordinary meaning, as this term is not defined in the ITA. A dictionary definition defines the term 'insolvent" as follows: "Being no longer able to pay one's debts." Consequently, a corporation which has neither assets nor liabilities at the end of a taxation year (or, in any event, has no liabilities at that time) cannot generally be considered insolvent for purposes of ITA subparagraph 50(1)(b)(iii).

The condition provided in clause 50(1)(b)(iii)(C) is that the fair market value of the shares which are subject to the election under subsection 50(1) must be nil. In this regard, it appears to us that the valuation of the shares in the situations described above would normally take into account the accumulated tax losses which can eventually be deducted in the computation of a corporation's income.
16 December 2003 Internal T.I. 2003-04616 -
With respect to the situation where a parent corporation ("Parentco") would elect to have s. 50(1) apply in respect of the shares of one of its wholly-owned subsidiaries ("Lossco") and then, in a subsequent taxation year, Parentco disposes of its Lossco shares in favour of another wholly-owned subsidiary ("Profitco") for a nominal cash consideration, the Agency commented that it would be difficult for Parentco to satisfy the requirements of ss.50(1)(b)(iii)(A) and (C) stating that "the benefits that can be derived from the utilization of non-capital losses should generally be taken into consideration in assigning a value to the shares of a corporation".
A debt would not qualify as being bad, i.e., completely uncollectible, by virtue only of a decision having been made that the debtor corporation will only use its remaining net assets to pay trade receivables rather than such debt.
A corporation that had made a general conveyance of all its assets to its shareholder in the course of voluntary dissolution proceeding, with the shareholder assuming all its liabilities, was not insolvent, i.e., unable to pay its debts.
1994 A.P.F.F. Round Table, Q. 6
"Nothing in the wording of subsection 50(1) of the Act leads us to believe that a portion of a debt may be deemed a bad debt. This interpretation rests on the fact that the deemed acquisition of the debt at a cost equal to nil seems to be possible in a situation where, at the end of a particular taxation year, the original debt has no known value."
6 April 1993 T.I. (Tax Window, No. 30, p. 5, ¶2493)
Anderson v. MNR, 92 DTC 2296 (TCC) (in which a letter of the taxpayer's accountant requesting the application of an allowable business investment loss to prior years was found to constitute an election) is not a precedent in this regard because it was based on its particular facts and because the Court felt the taxpayer was entitled to an allowable business investment loss on the deemed disposition of the debt owing to him by his corporation.
Central Region Rulings Directorate Seminar, Q. A (May 1993 Access Letter, p. 228)
The deemed disposition likely does not occur on a debt owing by a corporation all of whose other loans have been called by the bank so long as interest continues to be paid on the debt.
17 February 1993 Memorandum 930202 (Tax Window, No. 30, p. 21, ¶2496)
The onus is on the taxpayer to establish that there was a debt owing to him, i.e., "a sum payable in respect of a liquidated money demand, recoverable by action".
1992 A.P.F.F. Annual Conference, Q. 4 (January - February 1993 Access Letter, p. 51)
Given that the dictionary meaning of "insolvent" refers to incapability of paying debts, a corporation that has neither assets nor debt cannot generally be considered to be insolvent.
23 October 1991 Memorandum (Tax Window, No. 12, p. 23, ¶1548)
An investor who suffers a loss due to fraud may be entitled to claim a capital loss if the criteria in IT-159R3, para. 10 are met.
29 July 1991 T.I. (Tax Window, No. 7, p. 19, ¶1377)
A corporation will not have ceased to carry on a business until the liquidation of all assets capable of being used in an income-earning process is substantially complete.
12 December 1989 T.I. (May 1990 Access Letter, ¶1215)
The cessation of business and the insolvency referred to in s. 50(1)(b)(iii) need not occur in the same year as long as the corporation satisfies both conditions in the particular taxation year.
25 October 89 T.I. (March 1990 Access Letter, ¶1145)
Where a creditor agrees with an insolvent corporation to take less than the full amount owing in exchange for a full and final release of all further liability, the unpaid portion of the debt will be considered to be a debt owing to the taxpayer at the end of the year for purposes of s. 50(1)(a), and therefore will be eligible for the deduction.
IT-159R3 "Capital Debts Established to be Bad Debts"
Paragraph 50(1)(a)
Administrative Policy
Proactive collection efforts
Relevance of NAL relationship
1.34 ... While there is no legal requirement that in all cases a taxpayer must exhaust all legal means of collecting on a debt before determining that during the year it had become a bad debt, such a determination will generally fall short if it is evident that collection on the debt is reasonably possible but no proactive steps were taken to collect on it.
Relevance of NAL relationship
1.38 ... The existence of a non-arm's-length relationship between the creditor and the debtor ... will not prevent the creditor from establishing that a debt has become a bad debt.
No partial write-down
1.39 ... A debt is considered bad for the purpose of section 50 when the whole amount is uncollectible. ...
Paragraph 50(1)(b)
Subparagraph 50(1)(b)(iii)
Subsection 50(1.1)
Administrative Policy
can be dissimilar business
1.30 ... [T]he business that commences to be carried on within the 24-month window need not be the same as (or even similar to) the business that had ceased to be carried on.
NAL transfer and business commencement
1.32 ...

Example 5

In 2012, Mr. A bought a share in the capital stock of Company A . ...

... Based on his determination that Company A was insolvent at the end of his 2013 tax year, Mr. A elected to have subsection 50(1) apply. This resulted in a deemed disposition of the Company A share at the end of Mr. A's 2013 tax year for nil proceeds and an immediate reacquisition of the share at a cost equal to nil. ...

On January 2, 2014, Mr. A transferred the Company A share to his common-law partner Ms. B for no proceeds. Twenty-three months later, on December 1, 2015, Company B, a corporation controlled by Company A, commenced carrying on business. ...

Because Mr. A and Ms. B are not at arm's length, subsection 50(1.1) deems Ms. B to have disposed of the Company A share on December 1, 2015... .

The result is that Ms. B has a capital gain in her 2015 tax year, in respect of the Company A share, which offsets Mr. A's previous capital loss. ...