Subsection 115.2(1) - Definitions
Designated investment service
Administrative Policy
two-tier LP structure investing in original issue illiquid debt
Illiquid investments of LPs. The Manager, which is a Canadian-controlled corporation providing investment advisory and management services to Canadian and non-resident investors, will solicit and receive subscriptions from third party investors in the LPs, which will invest in privately-negotiated illiquid longer-dated credit investments of US and Canadian issuers including debtor-in-possession loans, generally on original issue, illiquid public credit investments, related equity instruments and some shorter term credit investments.
LPs. The LPs comprise (a) three LPs which will have exclusively Canadian-resident partners, (b) XXX, (c) two US partnerships (US LP and US II LP) which will have LLC general partners and US-resident Limited Partners and (d) another partnership (Master LP) whose LP units for the most part will be the only investment of US LP and XXX and which will have only non-resident partners. "[T]he Limited Partners of XXX, Master LP, US LP, and US II LP will not be affiliated with the Manager...or with any person or partnership (other than the LPs) described in clauses 115.2(2)(c)(ii)(A) or (B) in respect of the Manager... ."
Management Agreement. The LPs and their GPs entered into a Management Agreement with the Manager, pursuant to which the respective GP delegated its decision making authority to the Manager and authorized the Manager to provide investment services to the respective LPs, including investment management and advice and a detailed list of administration services.
Ruling: "Subsection 115.2(2) will apply to the Limited Partners of XXX, US LP, and US II LP such that the provision by the Manager of the services described...above to XXX, US LP, US II LP and Master LP...will not, in and by itself, cause the Limited Partners...to be carrying on business in Canada... ."
application to original issue mezzanine debt
Management Agreement. Canadian-resident "Manager" will enter into the "Management Agreement" with the affiliated CBCA GP of two newly-formed LPs (Foreign LP and Canadian LP) pursuant to which the GP will delegate all its functions with respect to Foreign LP, including approving Investments and approving dispositions and the Manager will earn fees.
Original issue mezzanine debt. The LPs will invest primarily in "Mezzanine Debt" (i.e., privately placed debt of private companies that is typically subordinated to bank and institutional indebtedness and bears fixed or floating interest at a rate above traditional commercial lending rates, typically with a portion of the interest being paid currently and a portion being deferred) generally acquired on original issue, and related securities of persons resident in Canada and the United States. The Foreign LP's investments will be restricted to Mezzanine Debt and other qualified investments.
Foreign LP partners. None of the limited partner investors in Foreign LP will be related to, or affiliated with, any of the GP, the Manager or the Manager's indirect Canadian parent (Canco) and they will be non-residents. Canco will provide services of investment management employees to the Manager.
Ruling: that s. 115.2(2) will apply to the non-resident partners of Foreign LP.
Paragraph (b)
Administrative Policy
safe harbour applied to partnerships providing mezzanine financing and receiving profit participations though a Canadian corporate sub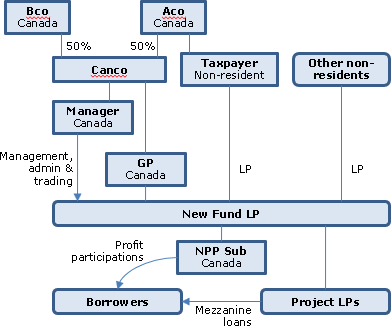 Structure
Each of Aco and Bco (who are unrelated Canadian residents) each holds 50% of the shares of Canco, which wholly owns the Canadian-resident Manager. A non-resident wholly-owned subsidiary of Aco (the Taxpayer) will, along with other non-residents subscribe for LP units of a newly-formed LP (New Fund LP) with a newly-incorporated subsidiary of Canco (New Canada GP) as the general partner. Taxpayer and the other non-resident investors also are unrelated to the Manager and any sub-advisor, or to any person or partnership, other than New Fund LP or Project LPs, described in s. 115.2(2)(c)(ii)(A) or 115.2(2)(c)(ii)(B) in respect of the Manager or such sub-advisor). Interests in New Fund LP will only be marketed to non-resident investors.
Project Investments by New Fund LP or Project LP
New Fund LP may invest in Project Investments (i.e., private credit investments in Canadians or non-residents, including specialty mezzanine and other debt instruments) directly, but will usually form a subsidiary "Project LP" (of which New Canada GP is the general partner) to make the investment. Each Project Investments will be "indebtedness" and a "qualified investment."
NPP Subsidiary
An unlimited liability company subsidiary ("NPP Subsidiary") of New Fund LP or of a Project LP will acquire "Net Profit Participations" from entities that are financed with a Project Investment, and will pay corporate income tax on any income generated from Net Profit Participations.
Manager functions
New Canada GP, New Fund LP and any Project LP will enter into one or more Management Agreements with the Manager whereby New Canada GP, on behalf of the Partnerships, will appoint the Manager to act as its investment advisor and debt financing underwriter and servicer, and New Canada GP will delegate all of its functions with respect to New Fund LP, Project LPs, and other Subsidiary Entities, including approving Project Investments and approving dispositions. In addition to making investment decisions, the Manager will manage the day-to-day operations of the Partnerships and arrange for the provision of marketing services.
Ruling
S. 115.2(2) will apply to the Taxpayer such that the provision by the Manager of the above services, and the acquisition, holding, and disposition through the services of the Manager of (i) Project Investments by Project LPs, and (ii) shares of NPP Subsidiary by New Fund LP or Project LPs will not cause the Taxpayer to be carrying on a business in Canada for the purposes of ss. 115(1) and 150(1) and Part XIV.
Subsection 115.2(2) - Not carrying on business in Canada
Paragraph 115.2(2)(b)
Articles
Timothy Hughes, Matias Milet, Marc Richardson-Arnould, "Private Equity Funds – Selected Canadian Tax Issues", Tax Management International Journal, 2016, p.84
Restrictions on s. 115.2 safe harbour (p. 86)
The safe harbour contains a number of restrictions. For example, a share in the capital stock of a private portfolio company, or an interest in an unlisted partnership or trust, will not be a "qualified investment" for purposes of the safe harbour where more than half the value of the share or interest is derived from Canadian real estate or resource property. Similar restrictions apply to publicly traded entities where more than 25% of the issued shares of any class of capital stock of the corporation or of the total value of interests in the partnership or trust are owned by the fund. The safe harbour also prohibits certain entities affiliated with a "Canadian service provider" from investing in the non-Canadian fund. Further, the safe harbour will not apply to a fund structured as a corporation or trust if it is promoted principally to Canadian resident investors, or at any time when investments in the fund have been sold to Canadian investors and remain outstanding. Accordingly, reliance on the safe harbour requires a detailed analysis of the non-Canadian fund, its investors, fund sponsor, service providers, and proposed investments.
Subparagraph 115.2(2)(b)(i)
Clause 115.2(2)(b)(i)(B)
Administrative Policy
share subscription by Canadian parent is "investment" by "Canadian investor"
Forco, which is wholly-owned by Canco (which, in turn, is a (widely-held) "designated entity" in respect of the affiliated Canadian service provider), was formed more than one year ago and has satisfied the promotion test in s. 115.2(2)(b)(i)(A) and the public filings test in s. 115.2(2)(b)(ii). Would the mere issuance by Forco of treasury shares to Canco preclude the availability of the safe harbor even though Forco does not offer securities for sale to Canadians in Canada? CRA responded:
Forco's issuance of shares…would result in Forco being considered to have "sold an investment in itself"… . As such, the issuance of treasury shares by Forco to Canco…would, to the extent the shares remain outstanding and Canco remains a "Canadian investor"…prevent Forco from benefiting from the availability of the safe harbour rule in subsection 115.2(2).

This is consistent…[with] the 1999 Budget Supplementary Information as follows: "This will ensure that no incentive is created to serve Canadian investors from offshore, thereby displacing the domestic Canadian fund industry" [w]hereas, the hypothetical scenario… is…equivalent to Canco's investment needs being serviced offshore through Forco.
Paragraph 115.2(2)(c)
Administrative Policy
exemption available where 2-tier partnership
CRA ruled that the s. 115.1(2)(c) safe harbour was available, respecting the acquisitions and dispositions by, and management/advice of, the Canadian manager, where a non-resident (the "Taxpayer") invested in units of a top-tier LP which invested in project-specific subsidiary LPs that granted mezzanine financing to borrowers and, through a Canadian taxable corporate subsidiary, were granted profit participations in the borrowers. CRA accepted that the Taxpayer not being a direct member of the lower-tier project partnerships did not jeopardize the s. 115.2 safe harbour, and also accepted that the Taxpayer being a non-resident subsidiary of a Canadian corporation that had exactly a 50% voting and equity interest in the wholly-owning Canadian parent of the manager did not engage the exclusions in s. 115.1(2)(c)(ii).
two-tier LP structure
CRA ruled that the s. 115.2 safe harbour applied in respect of investment management and administration services provided by the Canadian Manager to the "master" (i.e., bottom) partnership in a two-tier limited partnership structure, so that it applied to an unaffiliated US limited partner in an upper-tier "feeder" limited partnership. See detailed summary above.